Walgreens apparently didn't get the left's memo because its records show that the unvaxed they have seen are the least likely to get the latest versions of COVID.
The numbers come from the Wlagreens COVID-19 Index, but we'd better read this story before the company deletes the data, because this won't sit well with the leftist COVIDiot gatekeepers out there.
The story was highlighted by The Blaze's Daniel Horowitz who revealed the company's statistics.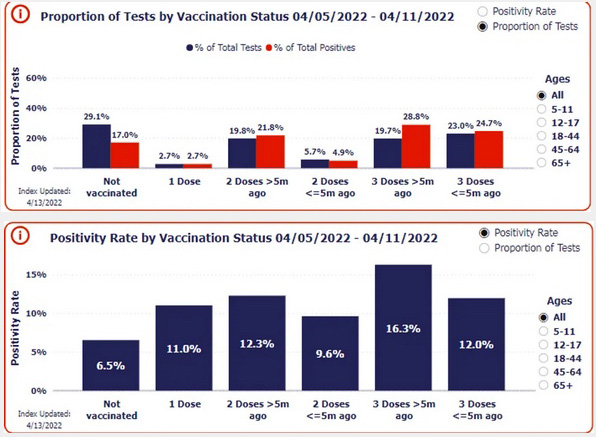 As you can see, even though the boosted represent just 30% of the population, they accounted for 61.6% of the positives among the sample of over 60,000 tests administered by Walgreens stores nationwide during the week beginning April 5. The unjabbed accounted for just 17% of the positives, lower than their share of the population.

Also of note is that the unvaccinated had, by far, the lowest positivity rate of all of the cohorts.

Until now, the pharma-paid "fact-checkers" suggested that somehow the reason we are seeing a higher percentage of cases among the jabbed is because they have a culture to test more often than the careless unvaccinated rubes. But this data shows that the unvaccinated actually test more than anyone else, presumably because of workplace testing mandates on those without the shots. This means that there is no undercurrent of uncounted cases among the unvaxxed relative to the jabbed.

The real appalling data is among kids. For those ages 5-11, just 39% of the cases were among the unjabbed, even though they account for 65% of this age cohort.

What is also evident from this data is that the shots seem to go negative as time progressives, as both in the double-jabbed and triple-jabbed cohorts, there was a greater proportion of cases among those who were five months out from their last shot. The data seem to indicate a cumulative effect of negative efficacy that gets worse with each jab, after a short period of slight gains. This works harmoniously with numerous data points we've seen from other countries and other studies.
This goes quite against the narrative, doesn't it.
Follow Warner Todd Huston on Facebook at: facebook.com/Warner.Todd.Huston
Tags:
Commentary
coronavirus
COVID
healthcare
vaccines