"Since the signing of the Declaration of Independence 241 years ago, America always affirmed that liberty comes from our creator. Our rights are given to us by God, and no earthly force can ever take those rights away. That is why my administration is transferring power out of Washington and returning that power back where it belongs to the people. Our religious liberty is enshrined in the very first amendment in the Bill of Rights. The American founders invoked our creator four times in the Declaration of Independence. Benjamin Franklin reminded his colleagues at the Constitutional Convention to begin by bowing their heads in prayer. Inscribed on our currency are the words: 'In God We Trust.'"
As much hate as the media sends in the direction of our President, he sure seems to have a handle on knowing the right things to say.
Our rights ARE given to us by God, and no force on Earth can strip them from us, even a nanny-state government is powerless to take our rights away. They may try. They may succeed at repressing our rights for some time, but our RIGHTS are inherent with in us and they remain there unchanged no matter which tyrannical government tells us they are gone.
The President also had praise for our law enforcement and our military as he reminded them that their duty is to serve the Constitution, not the bureaucrats in Washington, or their state capitals.
Trending: Your Vote Is Not About Your Vanity

We are supporting our incredible police and law enforcement. We will save American lives, protect American sovereignty, and we will ensure the forgotten men and women of our country are never forgotten again. 

take our poll - story continues below

Is Biden's Vaccine Mandate Unconstitutional?

Completing this poll grants you access to updates free of charge. You may opt out at anytime. You also agree to this site's Privacy Policy and Terms of Use.

For too long politicians have tried, oh, have they tried, to centralize authority among the hands of a small few in our nation's capital. I see them all the time. Bureaucrats think they can run over your lives, overrule your values, meddle in your faith, and tell you how to live, what to say, and where to pray. But we know that parents, not bureaucrats, know best how to raise their children and create a thriving society. 

And we know that families and churches, not government officials know best how to create a strong and loving community. 

And above all else we know this — in America, we don't worship government, we worship God. 

Our religious liberty is enshrined in the very First Amendment of the Bill of Rights. The American founders invoked our creator four times in the Declaration of Independence. Benjamin Franklin reminded his colleagues at the Constitutional Convention to begin by bowing their heads in prayer. I remind you that we are going to start saying Merry Christmas again.
Watch the full speech below:
Last year Judge Roy Moore (who is now running for Senate in Alabama and you should give to his campaign) said the same thing on CNN's New Day at which point liberal host Chris Cuomo disagreed with him.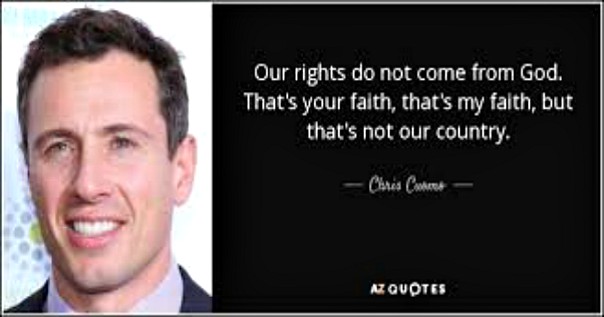 Sadly, for Cuomo, American leaders throughout history have agreed with President Trump.
The opinions expressed in this commentary are solely those of the author and are not not necessarily either shared or endorsed by iPatriot.com.