This is getting exciting! James Garrow (Ipatriot (5/20/16) claims that Obama tried to nuke the US on October 8, 2013, but was thwarted by our military!
This charge jumps the shark. It calls for hard evidence.
Part of Garrow's report claims a nuke was detonated off the east coast of the southern United States. Well, here is hard evidence of the detonation, the smoking gun.
Or, more precisely, the squiggly lines.
On the infamous date above, the United States Geologic Survey (USGS) reported a magnitude 4.4 earthquake about 450 miles east of Jacksonville FL, on the Atlantic sea bed. (Other reports put the event at magnitude at 4.5.) You can find this report still on the USGS website; it is event usb000k8bw.
You can also find the event reported on the Rapid Earthquake Viewer (REV) website.
Stupendously, the REV site provides seismograms of the event. It was recorded all the way up the US east coast. The significance of this lies in the fact that earthquakes and nuclear explosions have very different "seismic signatures," or seismograms.
For example, below are seismograms of two North Korean nuclear tests and an earthquake in the same area. These seismograms are totally typical. Nukes always begin with a spike; earthquakes always begin with "developmental waves."
Below is a graphic differentiation of two North Korea nuclear tests compared to an earthquake seismogram: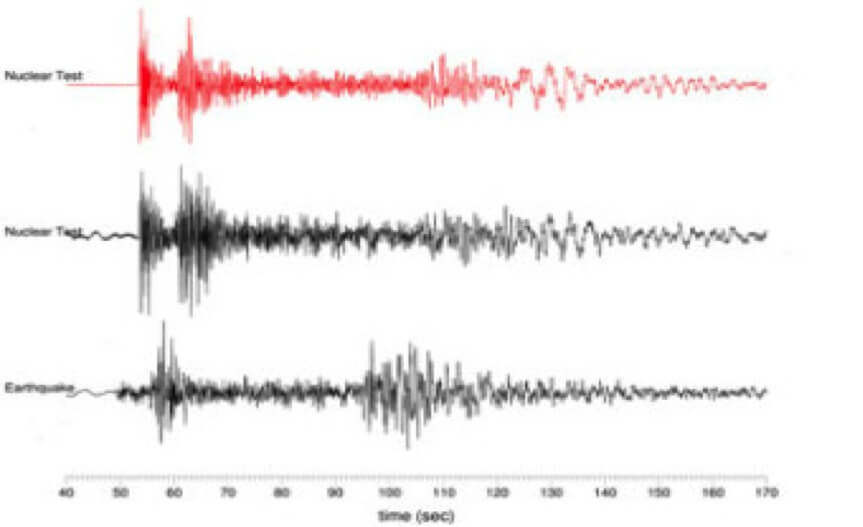 Seismograms of North Korea's May 25, 2009 nuclear
test (top, in red); October 2006 test (middle); and natural
earthquake from same region.  Lamont-Doherty Earth Observatory

Now here are seismograms of the 10/8/13 Atlantic sea bed event from the REV website: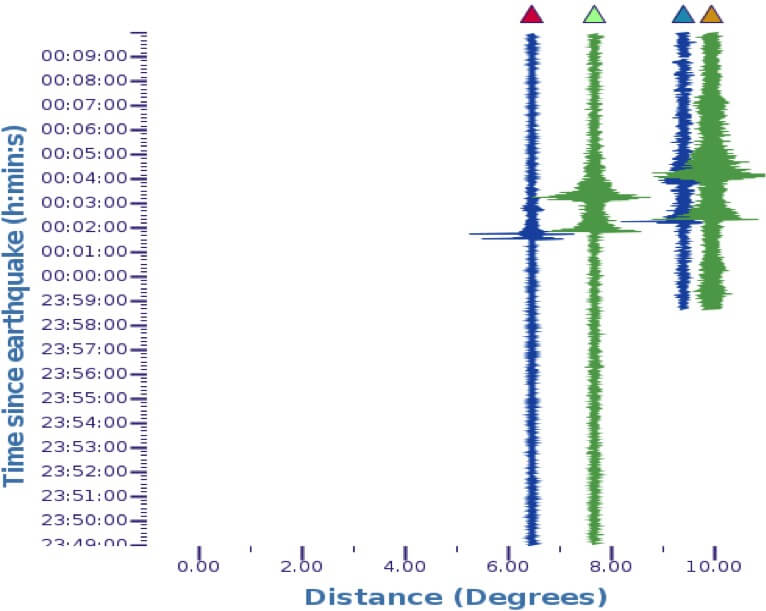 Stations that recorded the seismograms shown above
These seismograms are read from bottom to top, rather than left to right, but there it is, in plain sight, for all to see. This was an explosion. As in atomic bomb! Yet, except in a small corner of the internet, in foreign media, and on iPatriot, silence reigns.
(You can find a more complete report of the events surrounding this blast in The European Times of October 12, 2013. The EU Times report relies on a report from the GRU (Russian intelligence). The GRU, unlike the USGS, correctly identifies the seismograms as those of a nuke.)
Talk about an ice-breaker for discussion!
Why is the USGS misreporting the event?
Where is the "conservative" US press on this?
Investigative Journalism, where are you?
I hope the iPatriot community will tackle these questions. And any others they come up with.
In the meantime, the moral of the story is: If you are going to deny there was a nuclear explosion, don't leave the seismograms behind.
Tags:
President Barack Obama